Wondering what to gift your family and friends this festive season? Our products may just be the answer! With Covid-19 putting all our lives on hold, almost everything has shifted online. Our products have been designed specifically to help you through this ordeal!
The EasyWrk-
The EasyWrk helps increase both efficiency and comfort and reduces the risk of repetitive stress injury, which happens when you do something mundane like typing on a keyboard over and over again. A laptop stand will raise your screen to eye level preventing strain on your neck and back caused by a forced downward perspective. It can help you position the angle of your laptop so you can reduce screen glare. The EasyWrk laptop stand allows you to work comfortable from almost anywhere! Your coffee table, kitchen table, your couch-even your bed! With the new work and study from home culture, the average time a student or professional spends on the laptop is about 8 hours a day. Today, circumstances demand that we spend a considerable amount of time on our laptops. Your laptop should be at eye level, allowing your back to be straight and your elbows to be bent at an angle of 90 degrees. Most tables and surfaces are not designed with this in mind. With the EasyWrk laptop stand, you can adjust how your body is positioned to your computer for the perfect work experience. It improves airflow, keeping your laptop cool in order to maintain longevity. The EasyWrk offers complete access to all your device ports and is compatible with all sizes of laptops and tablets!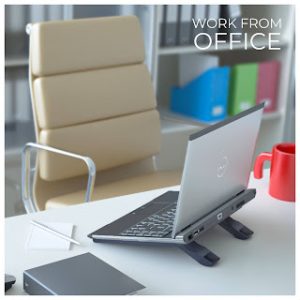 The EasyCamCvr-
With everything online, our privacy is at great risk. The EasyCamCvr is your choice to privacy at will. This perfect little product ensures that your camera is off when you want it to be. The EasyCamCvr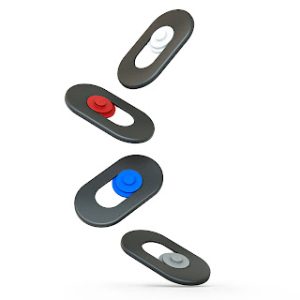 is easy to install and provides safety from hackers.
The EasyRead-
The EasyRead hands free reading stand holder can be used for books, iPads, photo albums, cookbooks, etc. It is portable, robust, lightweight and adjustable. It provides a range of viewing angles at 30, 60 and 90 degrees for your reading comfort. It saves space on cramped desks, tables and workstations. The EasyRead has adjustable page holders to ensure your book and electronic devices stay in place. Anti-slip grips on the stand keeps your EasyRead in place. It can also be hung
for convenience.
The EasyMo-
The EasyMo mobile phone holder stand-cum-dangler is an innovative accessory which can be used as a dangler on your wall or at the back of the seat while travelling. It can also be converted to a stand-alone prop on your table, desk, bed or kitchen platform to support your mobile device for work, education and entertainment purposes. EasyMo provides a safe, versatile and functional solution whenever you need to view something on your mobile device for extended periods of time like online video calls, tutorials, webinars, meetings and entertainment programs. The EasyMo holds your mobile device in landscape (horizontal) or portrait (vertical) mode for maximum viewing ease. The EasyMo effectively locks your device with a simple mechanism that ensures the device is firmly secure and that there is no chance of slipping or damage. EasyMo is equipped with a cushioned anti-slip grip to protect your phone from scratches. It holds your phone in a minimally invasive way so that you can access your device ports at all times. The wide dangler fits on most hooks / projections and can be used to hang your mobile device at the back of the seat while travelling in budget airlines, buses, cars or cabs and taxis where no screen is available for entertainment or work while on the go. The EasyMo is compact in design, lightweight and easy to carry in your bag, travel pouch or purse.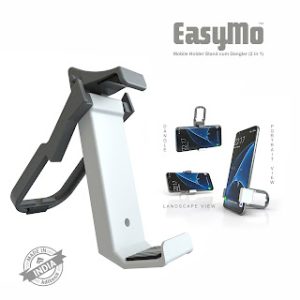 The EasySpn-
Continuous work or study can be cumbersome. Break the monotony with a spinning top! The EasySpn Spinning Top has been designed for recreational and therapeutic purposes. Take a break from work and studies by indulging in a quick spin of this colourful! It improves fine motor skills in children and also in adults and seniors dealing with injuries or loss of function in fingers due to advancing age or injuries. The EasySpn is available in bright multi colours. The bright colours lift your spirits and induces a feeling of well-being. Its unique design helps destress and unwind after or during a hectic schedule.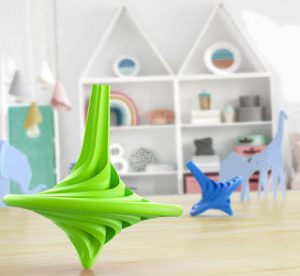 The EasyFeed-
Spending so much time on electronic devices can be stressful…what can help with that better than a touch of nature? The EasyFeed bird-feeder is ideal for nature enthusiasts and bird lovers. Easy to clean and refill, it is a great option to care for your pet birds and encourage wild birds to visit your home, yard or garden. The EasyFeed- bird feeder works as a seed and water dispenser. It can be placed inside the cage for pet birds, poultry or placed outside on your garden lawn, window sill, balcony or any flat surface for wild birds. It has been designed to encourage birds to perch comfortably while feeding. The EasyFeed bird feeder's unique design makes dispensing of water and grain automatic and convenient. The simple and thoughtful design of the EasyFeed ensures there is very little wastage due to spillage. The EasyFeed can hold approx. 375 g of grain or 468 ml of water. Using an EasyFeed bird feeder can bring you closer to nature and create a small but significant impact on our environment. Enjoy the chirping of birds all day long for a therapeutic experience!
DISCLAIMER: While placing the EasyFeed Bird Feeder outdoors, please be informed that it may take a few days to a few months for birds to start gathering to feed. This is an organic process and requires patience!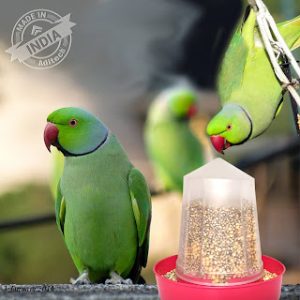 They say that the thought behind the gift matters more than the gift itself; but a thoughtful gift matters the most. So this festive season, Make It Happen!!!